A Lesson in Art & Life
A Lesson in Art & Life is the first complete biography of a couple, Cedric Morris (1889–1982) and Arthur Lett-Haines (1894–1978). who were at the centre of the Modern British art scene and were hugely influential in the spheres of cooking and gardening. Both men studied in Paris in the 1920s where they absorbed the work of the French Post Impressionists, Cubists and Surrealist They knew Fernand Leger, Marcel Duchamp Jean Cocteau and Man Ray who took Cedric's photograph. According to Maggi Hambling, Ernest Hemingway was jealous of their ease and charm. Hemingway included Cedric Morris and Lett Haines, known as Lett, in The Sun Also Rises.
In the London of the 1930s Morris became a sought-after and much exhibited painter of flowers, birds and landscapes, and a friend of Augustus John and Ben Nicholson. Peggy Guggenheim who appointed Cedric to be Godfather to her son Sinbad gave Cedric an exhibition of his direct and intense portraits at her London Gallery, Guggenheim, Le Jeune. Lett was hailed as Britain's first Surrealist. They gave fabulous parties attended by the cream of creative London in their flat in Fitzrovia.
But Cedric found London a distraction from is paintings and he and Haines left London in the late 1930s to set up the East Anglian School of Painting and Drawing in Suffolk where pupils learned by encouragement rather than formal instruction. Students included Lucian Freud and Maggi Hambling. At the start of The Second World War Freud threw down a lit cigarette and the school premises in Dedham burned to the ground. Undeterred Cedric and Lett moved a few miles away to Benton End in Hadleigh to started again with renewed vigour.
Cedric Morris planted a wild and romantic garden of plants from all over the world he had discovered on plant hunting trips with distinguished gardeners such as Cherry Ingram. Cedric became an award-winning gardener and breeder of poppies and irises influenced many gardeners and his maxim 'right plant right place' became an idea that hugely influenced Beth Chatto. He was greatly admired by Vita Sackville West.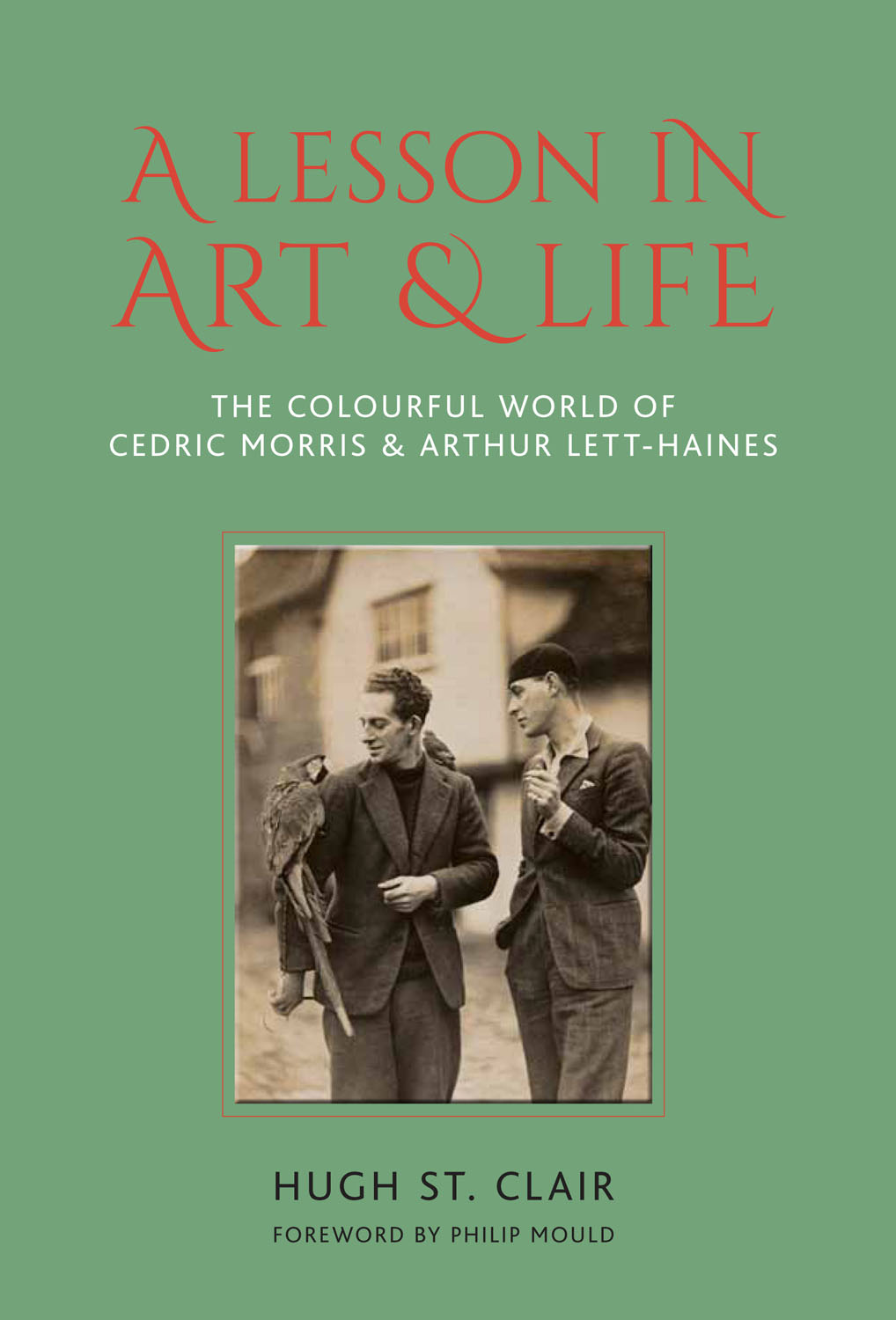 Book Launch and Talks
Garden Museum Literary Festival at Houghton Hall, Norfolk PE316YT 22nd June, tickets, tgardenmuseum.org.uk
Boule- In Bildeston Suffolk. IP7 7ER 26th June, ticket free,
boule-in.co.uk
Yellow Lighted Bookshop Tetbury Glos, GL8 8JG ,9th July 2019
ticket free,
yellow-lightedbookshop.co.uk
Way with Words, Dartington, Devon, TQ9 6EL 11th July, tickets, wayswithwords.co.uk
Barton Books Penzance, TR182SS, 12th July, ticket free
bartonbooks.co.uk
Byline Festival, Pippingford Park
Sussex .TN22 3HW 23rd August, tickets,
bylinefestival.com
Articles

Hugh St Clair has a written on a wide range of subjects concerning art and interiors for national and international magazines and newspapers.
He has contributes to Bonhams and Christies catalogues and magazines, the Art Newspaper, and .Cent online magazine. He currently as interior design tips column in the Lady Magazine
His writing has also appeared in House and Garden, Homes and Gardens, The English Home, Financial Times the Independent, Telegraph, Guardian, London Magazine and in-flight publications including Privat Air.
Books Collecting Affordable Art, Millers Guides
Churchill the Artist by Hugh St Clair.pdf
Sarah Graham House and Garden.pdf
House and Garden Magazine …… From her studio in Chelsea Sarah Graham uses ink to create large scale drawings of exotic plants and insects.
The Lady Magazine…. Winston Churchill, the artist and writer 'the cultivation of a hobby is a policy of first importance to a public man', said Churchill.
The Lady Magazine Book Review……. Landscapes of Dreams by Julian and Isabel Bannerman. The couple explain the thought process of creating a magical garden for clients including the Prince of Wales.
The Lady Magazine Exhibition Review……. an exhibition at Kettles Yard in Cambridge celebrates the innovative drawings and sculpture of Henri Gaudier Brzeska who died far too young. The Lady Magazine….